Events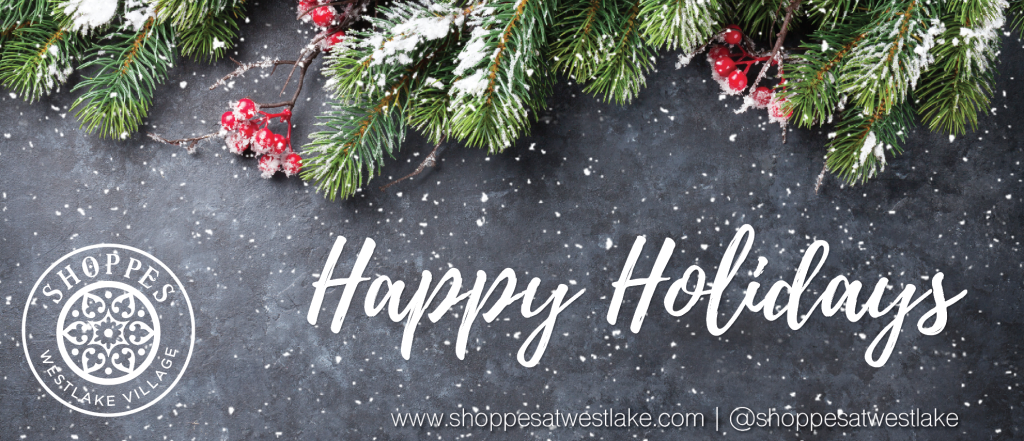 Join us for our annual holiday event at The Shoppes on Sunday, December 10th from 3-6pm presented with the City of Westlake Village.
PHOTOS WITH SANTA CLAUS + MRS. CLAUS • TOY DRIVE • COOKIE + CUPCAKE DECORATING • GIVEAWAYS •
WESTLAKE VILLAGE CITY SING-A-LONG • CAROLING • BALLOON TYING • FESTIVE FUN!
We can't wait for this day of festive fun where the Shoppes tenants will be participating and offering holiday giveaways and specials:
Premier America: special holiday offers
Figueroa Mountain Brewery: Beer samples + coupons
Sports Clips: special holiday offers
Total Woman Gym & Spa: free passes + more
Season's Gifts + Confections: special holiday offers
Bubber's Bowls: special holiday offers
Q Sushi: special tastings + bites
The Walking Co. : Free gift with any regular price purchase (up to $15 value)
Guitar Center: event sponsor
Kirks: free jewelry cleaning and inspection
Tifa Chocolate & Gelato: hot drinking chocolate & Tifa dippers
Carriere Menswear: candy cane giveaway + special holiday offers
Los Agaves: social holiday offers
The Gallery: social holiday offers
Tilly's: 20% off one item coupons (exclusions listed on coupon) + free giveaways

---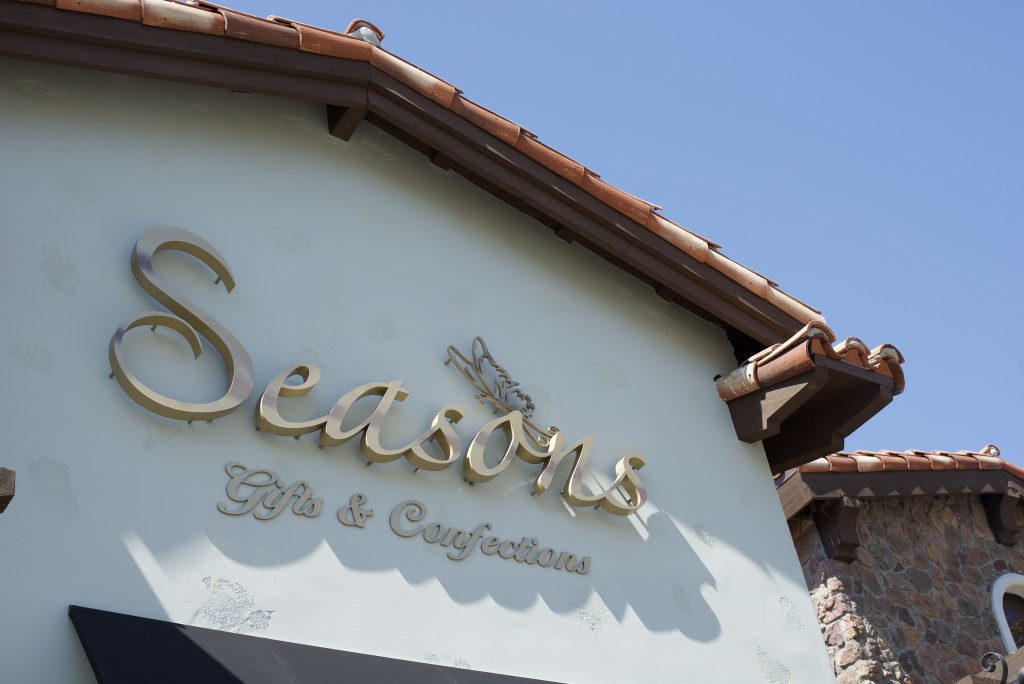 Join Seasons Gifts & Confections for their Holiday Open House on Saturday, November 11th. Guests can enjoy refreshments while shopping holiday decor, trinkets, and home wares. Tis' the season! #shoppesatwlv
---
The Shoppes and
Tifa Chocolate
present a FREE OUTDOOR MOVIE SCREENING of Willy Wonka and The Chocolate Factory on Friday, August 4th at 8pm at the front fountain by Tifa Gelato. Enjoy themed treats by Tifa and a beautiful evening at The Shoppes. 
Come early and check out Creative Balloons by Cathy and her custom creations. Balloon tieing begins at 7:30pm.
Don't forget to bring your blankets & lawn chairs and e
njoy a family-friendly evening under the stars. See you there!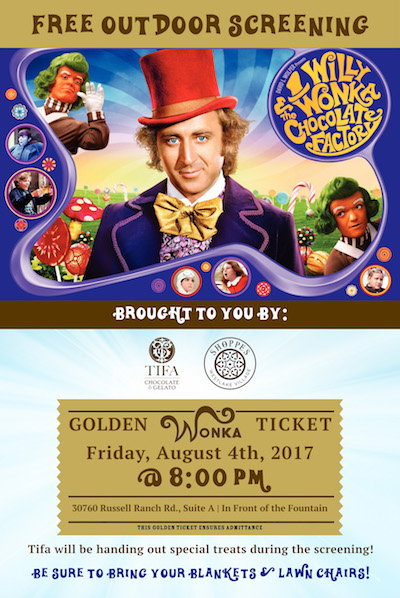 ---
Join Us for the Unveiling!
Come and celebrate the latest piece this local art install with a number of fun activities for you and the family including:
Local Food
Drinks & Cocktails
A Braid Bar
Baloon Twisting
Bunny Ears
Participating Sponsors include:
TIFA Chocolate & Gelato
Jeannine's Gourmet Food Hall
Q Sushi
Figueroa Mountain Brewing Co.
Olio E Limone
The Gallery Restaurant
Bowl of Heaven
Guitar Center
All Tressed Up
Premier America Credit Union
Walking Company

Picture This!
We envision an outdoor, family-oriented public art project with 5'6″ fiberglass cottontail rabbits, painted by local artists and purchased by local businesses, organizations and individuals.  A kick-off celebration for all ages will spark interest within our community.  Maps showing the cottontails' locations will include sponsors' and purchasers' names, recognizing the goodwill of donors and investors.
Why Cottontail Rabbits?
In the 1800s, a Spanish governor granted 48,000 acres of land to two loyal soldiers – one who named is property Rancho El Conejo – thus becoming the basis of the Conejo Valley.  Conejo means "rabbit" in Spanish, of which there are likely some tens of thousands living today throughout our valley.*
* Summary adapted from ConejoValley.com
To read more about this program CLICK HERE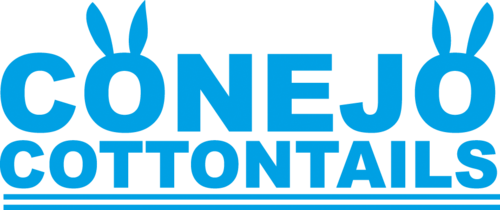 ---
Come out to The Shoppes for a gift for your loved one and make dinner reservations for the bid day while you're here!
---
Join Kirk Jewelers December 11th & 12th for a featured event presenting Belle Etoile and 50% off selected watches!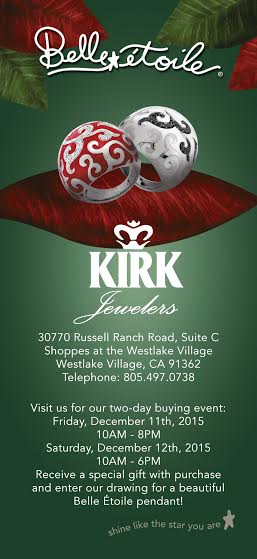 ---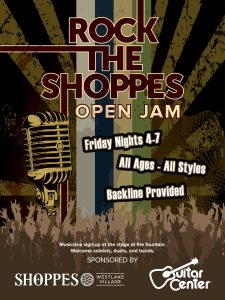 ROCK OUT at the Shoppes! The Shoppes at Westlake Village will be hosting an OPEN JAM – OPEN MIC NIGHT starting 8/21!
4-7pm so bring the family and stay for dinner at one of our many dining options!
Music will be next to the main fountain between Jeannine's Gourmet Food Hall, TIFA Chocolate and Gelato and Bowl of Heaven.
Sign up at the stage, all types of music welcome.
Sponsored by Guitar Center and The Shoppes Westlake Village.
---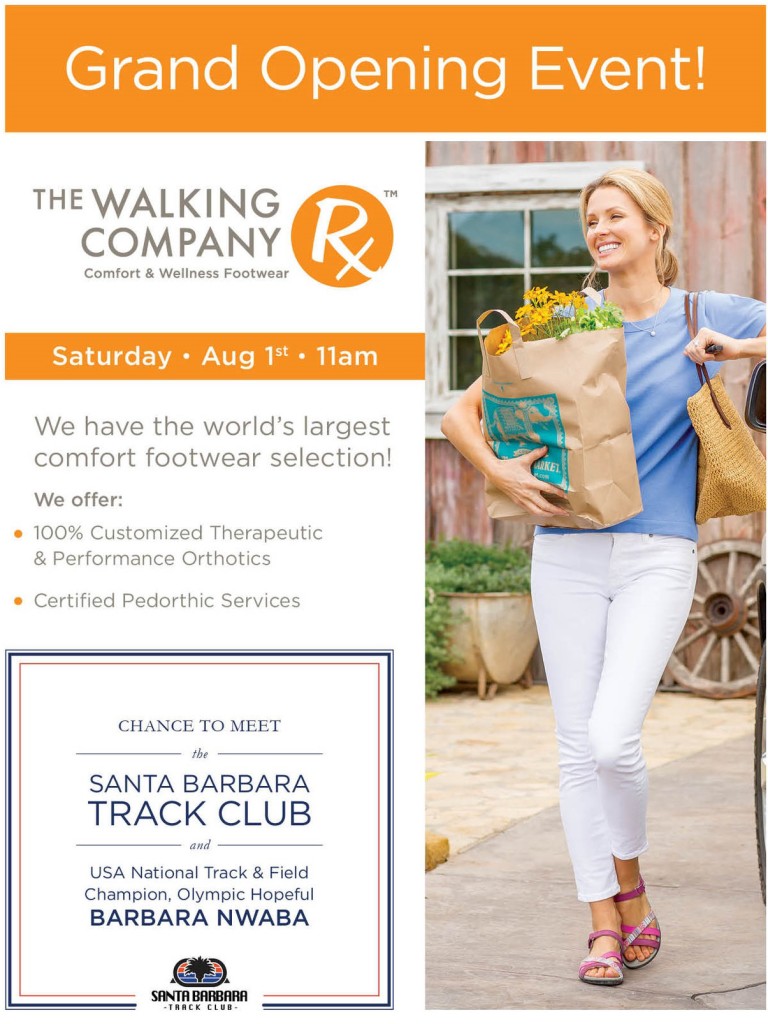 Come join us Saturday, 8/1 at The Shoppes at Westlake Village for the Grand Opening of The Walking Company, your premier retailer for comfort and wellness footwear!
You will have a chance to meet the Santa Barbara Track Club and the USA National Track & Field Champion & Olympic Hopeful Barbara Nwaba!
---
Come by the Grand Opening for Guitar Center at 7pm. Many businesses at The Shoppes will be participating by offering special promotions and giveaways so make sure you pay them a visit too!
---
This Saturday 12/20 and Sunday 12/21 from 3-7pm come stroll down "Beauty Blvd" at The Shoppes and enjoy FREE Champagne and Candy Canes compliments of The Gallery Restaurant.
"Beauty Blvd" stores will be offering discounted products & services during the event. Deals include Endless Beauty: 10% off selected items. Lighthouse Salon Suites: 20% off any hair service. Carriere Fine Menswear: $25 off any regular priced item over $100. All TressedUp: $5 off any service. BCBC Nail Spa: $4 off pedicures. Total Woman Fitness: 15% off all skin care products. See stores for details.
See you there!
---
The fountain at Shoppes at Westlake Village is now working! Come and see the beautiful new feature.
---
Remember when you said that you'd never leave the Conejo Valley? Now you don't have to. 
Total Woman, Jeannine's Gourmet Food Hall, Olio e Limone Ristorante and Olio Pizzeria, In-N-Out Burger, 
Lighthouse Salon Suites, Los Agaves Restaurant, and the largest and best-equipped Target in the state.
They've all discovered what we've always known. There's no better place to be.
Join us for our Grand Opening celebration, July 27th. 
---