Events

The City turns 35 on Sunday, December 11, 2016 and in honor of that occasion, the City is co-hosting a Holiday Sing-a-Long in partnership with The Shoppes at Westlake Village. The sing-a-long will begin at 4:00 pm and conclude with a fountain display at approximately 5:15 pm. Pre-show entertainment will begin at 3:30 pm provided by a Jazz Combo from Lindero Canyon Middle School. The event will be held in the Fountain Courtyard in front of Jeannine's at The Shoppes at Westlake Village. Special activities will include a toy drive for Casa Pacifica and a canned food drive for Manna Food Pantry with drop-offs available from 3:00 to 6:00 pm. Other activities include a balloon artist, cookie and cupcake decorating area, and special giveaways and samples from participating shops in the center. There are multiple opportunities for photos or "Elfies" throughout the event including the miniature therapy horses from the Los Angeles Sheriff's Department. The Westlake Village Children's Librarian will lead a special story time at 5:20 pm. The community can visit Santa by the center's tree from 3-6:00 pm. The sing-a-long will feature a small choir and band composed of local musicians. In addition, local community leaders and business owners will lead the singing of fun winter tunes.
For this special event, residents may board the Holiday Trolley beginning at 1:00 pm with a special neighborhood route to take people to and from the event. The trolley will run three hours before and after the event to allow for dining and shopping opportunities for attendees. Hop aboard to avoid traffic and finding a parking place for this event. The event will occur rain or shine, and special 35th Anniversary umbrellas will be available to the first 200 attendees.
For more information please visit the City's website at www.wlv.org/singalong or contact Brianne Anderson, Community Services Manager at Brianne@wlv.org or by calling 818- 706-1613.
Too learn more about Casa Pacifica and this cause for the holidays click the link below!
---
Join Us for the Unveiling!
Come and celebrate the latest piece this local art install with a number of fun activities for you and the family including:
Local Food
Drinks & Cocktails
A Braid Bar
Baloon Twisting
Bunny Ears
Participating Sponsors include:
TIFA Chocolate & Gelato
Jeannine's Gourmet Food Hall
Q Sushi
Figueroa Mountain Brewing Co.
Olio E Limone
The Gallery Restaurant
Bowl of Heaven
Guitar Center
All Tressed Up
Premier America Credit Union
Walking Company

Picture This!
We envision an outdoor, family-oriented public art project with 5'6″ fiberglass cottontail rabbits, painted by local artists and purchased by local businesses, organizations and individuals.  A kick-off celebration for all ages will spark interest within our community.  Maps showing the cottontails' locations will include sponsors' and purchasers' names, recognizing the goodwill of donors and investors.
Why Cottontail Rabbits?
In the 1800s, a Spanish governor granted 48,000 acres of land to two loyal soldiers – one who named is property Rancho El Conejo – thus becoming the basis of the Conejo Valley.  Conejo means "rabbit" in Spanish, of which there are likely some tens of thousands living today throughout our valley.*
* Summary adapted from ConejoValley.com
To read more about this program CLICK HERE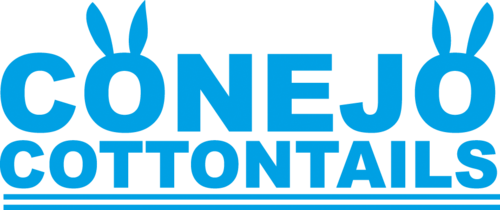 ---
Come out to The Shoppes for a gift for your loved one and make dinner reservations for the bid day while you're here!
---
Join Kirk Jewelers December 11th & 12th for a featured event presenting Belle Etoile and 50% off selected watches!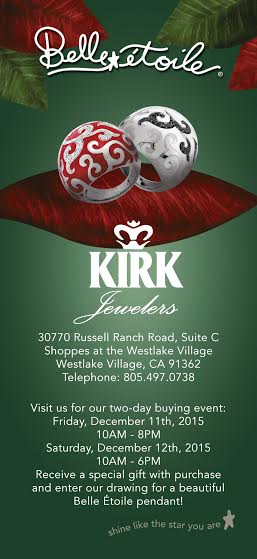 ---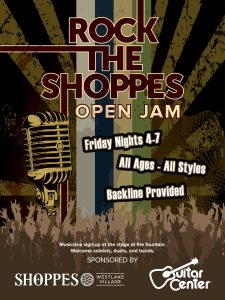 ROCK OUT at the Shoppes! The Shoppes at Westlake Village will be hosting an OPEN JAM – OPEN MIC NIGHT starting 8/21!
4-7pm so bring the family and stay for dinner at one of our many dining options!
Music will be next to the main fountain between Jeannine's Gourmet Food Hall, TIFA Chocolate and Gelato and Bowl of Heaven.
Sign up at the stage, all types of music welcome.
Sponsored by Guitar Center and The Shoppes Westlake Village.
---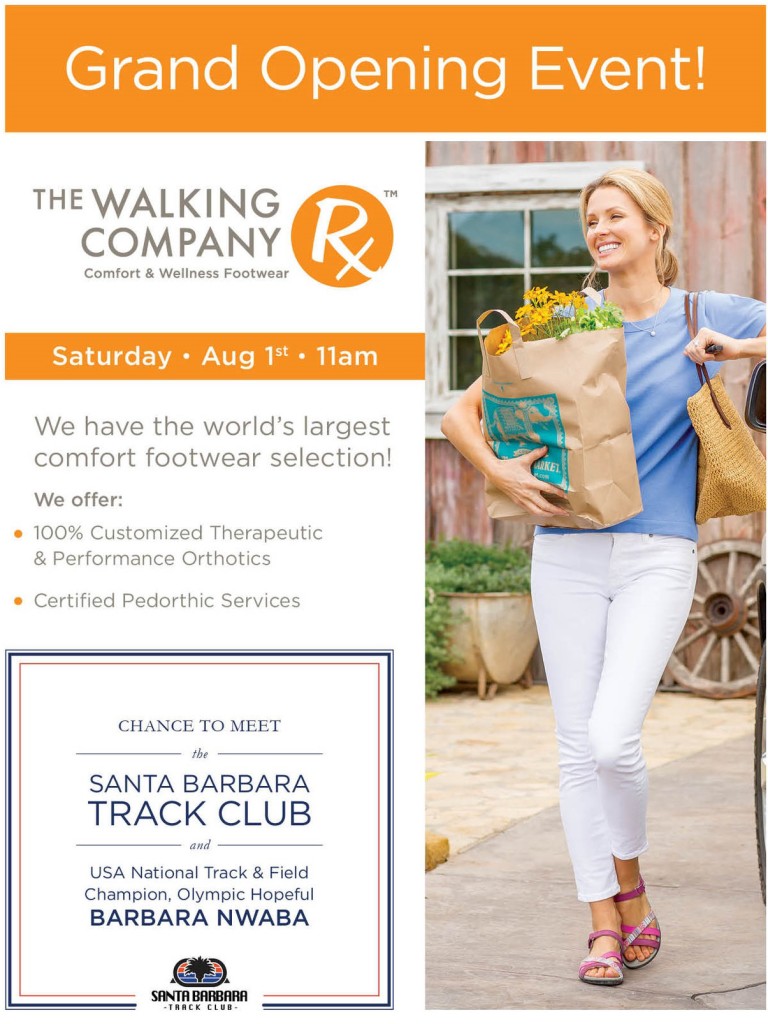 Come join us Saturday, 8/1 at The Shoppes at Westlake Village for the Grand Opening of The Walking Company, your premier retailer for comfort and wellness footwear!
You will have a chance to meet the Santa Barbara Track Club and the USA National Track & Field Champion & Olympic Hopeful Barbara Nwaba!
---
Come by the Grand Opening for Guitar Center at 7pm. Many businesses at The Shoppes will be participating by offering special promotions and giveaways so make sure you pay them a visit too!
---
This Sunday 12/21 come to the Shoppes for our Grand Menorah Lighting! We will have live music, an exciting circus act, juggler, latkes, jelly donuts, crafts and dreidels. All Chanukah events will be held at the fountain.
---
This Saturday 12/20 and Sunday 12/21 from 3-7pm come stroll down "Beauty Blvd" at The Shoppes and enjoy FREE Champagne and Candy Canes compliments of The Gallery Restaurant.
"Beauty Blvd" stores will be offering discounted products & services during the event. Deals include Endless Beauty: 10% off selected items. Lighthouse Salon Suites: 20% off any hair service. Carriere Fine Menswear: $25 off any regular priced item over $100. All TressedUp: $5 off any service. BCBC Nail Spa: $4 off pedicures. Total Woman Fitness: 15% off all skin care products. See stores for details.
See you there!
---
The fountain at Shoppes at Westlake Village is now working! Come and see the beautiful new feature.
---
Remember when you said that you'd never leave the Conejo Valley? Now you don't have to. 
Total Woman, Jeannine's Gourmet Food Hall, Olio e Limone Ristorante and Olio Pizzeria, In-N-Out Burger, 
Lighthouse Salon Suites, Los Agaves Restaurant, and the largest and best-equipped Target in the state.
They've all discovered what we've always known. There's no better place to be.
Join us for our Grand Opening celebration, July 27th. 
---